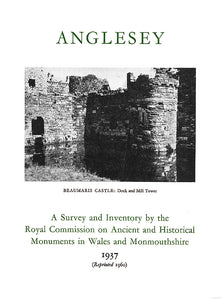 Anglesey: An Inventory of the Ancient Monuments in the County (eBook)
This title is now out of print, but is available as an eBook.
THE original edition of this Inventory was published in 1937, and amounted to 625 copies. The edition had been exhausted, except for about 20 copies, when war broke out in 1939, and the last remaining copies were sold in 1945. The Inventory is a basic work of reference, and is essential for students of the history and prehistory of Anglesey. It also has more than a local value, for it is a record of the varying pattern of life, as reflected in the visible antiquities from the earliest times down to the early nineteenth century, in an area of exceptional interest both in itself and in relation to surrounding lands.
The present (1960) reprint is not a new edition, but a page-for-page reissue of the original volume, with no corrections in the text except of misprints and similar errors.
The Commissioners have limited themselves to a simple reprinting because a new edition would have involved their staff in an amount of work that would interfere unduly with other tasks. H.M. Stationery Office has published separately a summary of Additions and Corrections arising from material printed since 1937, together with a list of errors found in the 1937 text and corrected in the reprint, this will be found at the rear of the volume.
LIST OF PARISHES
Aberffraw
Amlwch
Beaumaris
Bodedern
Bodewryd
Bodwrog
Ceirchiog
Cerrig-Ceinwen
Coedaneu
Heneglwys
Holyhead Rural
Holyhead Urban
Llanallgo
Llanbabo
Llanbadrig
Llanbedr-Goch
Llanbeulan
Llanddaniel-Fab
Llanddeusant
Llanddona
Llanddyfnan
Llandegfan
Llandrygarn
Llandyfrydog
Llandysilio
Llanedwen
Llaneilian
Llanerchymedd
Llaneugrad
Llanfachraith
Llanfaelog
Llanfaes
Llanfaethlu
Llanfair-Mathafarn-Eithaf
Llanfair-Pwllgwyngyll
Llanfair-y-Cwmwd
Llanfairynghornwy
Llanfair-yn-Neubwll
Llanfechell
Llanffinan
Llanfflewyn
Llanfigael
Llanfihangel-Din-Sylwy
Llanfihangel-Esgeifiog
Llanfihangel-Tre'r-Beirdd
Llanfihangel-yn-Nhowyn
Llanfwrog
Llangadwaladr
Llangaffo
Llangefni
Llangeinwen
Llangoed
Llangristiolus
Llangwyfan
Llangwyllog
Llanidan
Llaniestyn Rural
Llaniestin Urban
Llanllibio
Llanrhwydrys
Llanrhyddlad
Llansadwrn
Llantrisant
Llanwenllwyfo
Llanynghenedl
Llechcynfarwy
Llechylched
Newborough
Penmon
Penmynydd
Penrhos-Lligwy
Pentraeth
Puffin Island
Rhodo-Geidio
Rhosbeirio
Rhoscolyn
Rhosybol
Trefdraeth
Tregaian
Trewalchmai